Cocina 35 Opens Its First Sit-Down Restaurant in Point Loma
The symphony of crunches heard tableside at Cocina 35 are the sounds of chilaquiles being generously consumed. Made by flash flying (or baking) corn tortillas, the crisped triangles are bathed in red or green salsa, and topped with red onions, cilantro, oaxaqueña cream, cotija cheese, avocado, and sometimes a sunny side egg .
Chilaquiles are a breakfast staple across many Mexican states, also what Cocina 35 co-owner Paulina Chaidez credits with her restaurant's booming success. This month, she's expanding Cocina 35 for the third time with a 3,000-square-foot storefront in Liberty Station opening August 7. Unlike her Downtown, Otay Mesa, and Barrio Logan locales, the Point Loma one will be a full-service restaurant with a bar and expanded menu.

"Liberty Station is a family place," Paulina tells me. "When you're sitting around the table it should be full of family and friends. There are lots of parks and family friendly things around, so it felt like the perfect place for us to be."
Paulina runs Cocina 35 with her brother Cesar, who like her, grew up learning how to cook traditional Mexican bites from their parents. Originally named La Loteria, the duo decided to rebrand the chain when opening the downtown branch to distinguish the brand from similarly named concepts in Los Angeles.
The Liberty Station storefront will keep with Cocina's tradition of offering chilaquiles topped with carnitas, crispy al pastor, chorizo, and grilled chicken, but will also offer tamales, pancakes, burritos, flautas, enchiladas, and tortas. It's all backed by a beverage program aimed at condensing the flavors and essence of Mexico into a cocktail.
"This location is full-service. The others are fast-casual," Paulina says with emphasis. "We will have mimosas flavored with agua frescas, mezcal cocktails like smoked pineapple and cucumber, a house carajillo, and a mezcal bloody mary made with clamato and pork skin, like chicharron. We're calling it a Mexican brunch experience."
Large picture windows with black trim aid a palette of blues and pastels brightening the space, while a tree of life with thick branches and blush pink petals cements itself as the restaurant's focal point.
Quick Bites

The Mexico City-based hospitality giant Grupo Hunan opened Lucrezia, an upscale Italian restaurant at Westfield UTC on August 3. Executive chef Paulo Sergio Mendoza is in the kitchen doing handmade pizza, Neapolitan-style pizza, and oysters served alongside a wine list 65 bottles deep. The digs are modern and chic, boasting imported Italian tiles, a wrap around marble bar, and green-striped stools.

Lucrezia: 4301 La Jolla Village Drive, Suite 1050. San Diego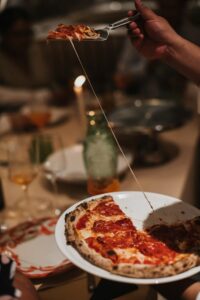 Lucrezia, an upscale Italian restaurant, is set to open this...