Luxury Hospitality Firm is Opening This Splashy New Restaurant in La Jolla
A renowned hospitality group based in Mexico City is looking to make its first expansion into La Jolla with luxurious Italian restaurant Lucrezia.
The new Italian restaurant will open in the summer at the former Larsen's Steakhouse space at Westfield University Town Center (UTC), according to Eater San Diego.
Lucrezia will feature a menu that the hospitality company, Grupo Hunan, crafted in partnership with Caccio Pizza & Rotisserie — a culinary partner with two Italian restaurant locations in Tijuana.
The menu will feature highlighted Italian cuisine like fresh shellfish, carpaccio, antipasti, penne arrabbiata, and Neapolitan pizza with prosciutto. You can also expect twists on classics like Jidori rotisserie chicken, aged bistecca alla Fiorentina, and grilled branzino.
Image courtesy of grupohunan.com
Grupo Hunan is based in Mexico City and operates more than a dozen restaurants in that region across various cuisine types, including Mexican, Italian, and Mediterranean.
The hospitality group recently made its first expansion into the U.S. with a new Mexican restaurant dubbed Alma in Los Angeles. Now, it's setting its sights on America's Finest City.
In an interview with Eater, Grupo Hunan told the publication that it has been considering a fine dining restaurant in La Jolla — which the group says that it loves — for years.
If you're curious about what Lucrezia will bring to La Jolla beyond Italian cuisine, you should know that Grupo Hunan is well-known for its luxurious and flashy interiors. That's the work of Cuaik Comprehensive Design Studio, Grupo Hunan's sister company and an award-winning design firm.
The interior at Lucrezia will feature signature green wicker chairs, a rose-tinted bar counter, and plenty of lush overhanging greenery across the outdoor dining space. An indoor dining area will include architectural ceilings and a grand piano.
When the timing is right, Grupo Hunan said that it may consider opening other restaurants or dining projects in San Diego.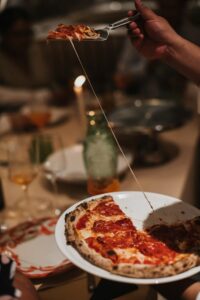 Lucrezia, an upscale Italian restaurant, is set to open this...